Add Scars, Cuts and Bruises to Any Photo
Fake Out Your Friends
Now, you can fake out your friends by adding realistic scars, cuts and bruises into your photos, with the Scar Booth iPhone app. Load any picture and add virtual wounds to the photo, adjust the transparency of the image to make it look like it is a real injury.Your friends and family will be convinced that you have suffered a painful beating when they see a photo of you with a black eye, bruises and a cut up face. Meanwhile you are looking as good as ever and have just posted a prank photo. Easily done with this app! All scars are REAL scars that were professionally cut out to able to place on your face.
WARNING the photos made with this app, look real and will FREAK out just about anyone who see's it. DO NOT USE this app to scare the elderly. Please, I mean really haven't they been through enough already?
Imagine the comments you will get when you post a photo of yourself with scars, cuts and bruises on Facebook and no one knows the story behind it.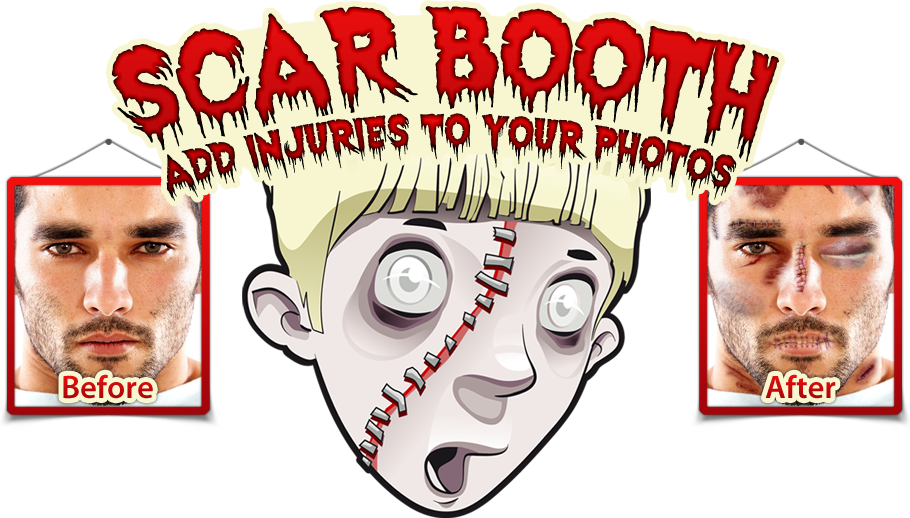 Easy to use
Load A Photo
Load a photo from your photo album, use one of our sample photos or take a new photo using the built in camera on your device
Add Wounds
Browse the scars, cuts and bruises graphics and tap the one you would like to add to your photo. Once added to the photo you can adjust the size, rotation and placement of the wound to match your photo perfectly
Save & Share
When you are done with your photo hit the save button and you can save the photo to your photo album on your device or share it via email, facebook and twitter.
App Features
Designed for retina on both iPad and iPhone
77 Unique injury graphics
Easy to use interface
Advanced editing tools with Eraser, Flip and Opacity controls
Load a photo or take a new one using the camera on your device
Twitter, Facebook and Email integration

A Universal iOS App
This app is designed for both the iPhone and iPad

Reviews
"I've used many different "trick your friends apps" & when I downloaded this I wasn't expecting much but once I learned how to use it I put a nasty gash on my arm & put it on Facebok to test it out & all my friends fell for it, even people who are used to my usual tricks. BUY IT"

PlagueReborn
"Scar booth is one of my best apps it's so realistic and freaky"

Smasher01
Screen Shots
Comment, Request & Bug Report
Connect & Share